Development of a good strain of normal Gouldians is not that difficult if you apply basic  "Husbandry" and don't dabble in the confusion that surrounds our hobby. We apply the same principles for all our birds – the Blues, the Australian Yellows, our newest Gouldian Finch mutations, Limes and Turquoise Blues.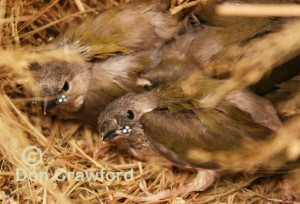 Selecting Breeding Stock
We do consider our strain of pure blood normals to be the most important bird in our breeding complex. Normal Gouldians are so necessary when used to improve the development of all the mutations we are working on at present.
To read more about Don Crawford's ideas on the successful breeding of mutations, take a look at Don's article: "Combining the Mutation With the Normal is the Future: …We have a very different philosophy breeding our mutations. To keep your birds to a high standard…" read the full article
When we select our stock birds, we do consider the cosmetic look of a bird to be important for its visual pleasure. However our main focus is to develop birds with the correct breeding traits, which we have always considered much more important in our breeding stock, such as building a grass tunnelled nest for their own breeding security.
High fertility is a major propriety – good-sized hens that lay four or more eggs. We also consider the hens to be more important when breeding and four eggs to be the ideal nest size.
Dedicated Feeders
Another important trait, if not the most important is dedicated feeders. The young will thrive when you have good feeders and attentive parents. Stress-free breeders are also very important whilst inspecting nests and ringing the young birds. Cold-tough birds are another major advantage when winter breeding as any weakness will show in egg bound hens.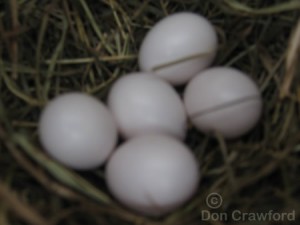 This is only an outline of the breeding structure that we try and create in our Gouldian breeding colonies. By abiding by these principles we have successfully established the Australian Yellow Gouldian.
We have not ventured into the other important aspect of hard work and dedication which really doesn't need any introduction.
A Reflection of the Gouldian in the Wild
My intention was to write a report on the lifestyle of the Gouldian in the wild. This I believe we would not do justice to,  as my knowledge of the wild bird has been acquired from book reading over many years, which I believe most breeders would relate to.  HOWEVER!!! if it's knowledge you crave relating to the Gouldian in its wild habitat, and the peculiarity that surrounds them, (eg does this bird eat live food? obviously not!) then read a great article in A.B.K publications, "A guide to Gouldian Finches"  (revised edition) written by a prominent Zoologist, Dr.Milton Lewis. This is the most comprehensive report on their feeding requirements and lifestyle written from hands on experience and understanding of what its like in their wild environment.
Head Colours of the Gouldian Finch
In the same A.B.K. booklet there is an article that I wrote – "Breeding Head Colours " which has significance if you are attempting to breed a separate GENETIC line of the three different head colours, Black, Red and Yellow. Especially interesting is the combination of the Black head with a yellow tip beak. This bird has inherited the characteristics of both Black and Yellow- headedness, the Black actually masking the Yellow.  So what we are saying is it's a Yellow- headed bird with a Black head, not simply a Black- headed bird split to Yellow-head. A Black head split for Yellow head will have a red-tipped beak  (Crawford 1991 ).
Read the full article: "Head Colours of the Gouldian Finch"
We will endeavour to write helpful hints from time to time to promote the Gouldian to the standard of respect it deserves.