Our 2014 breeding season was most definitely interrupted by the travel bug, dragging a Caravan through the Eastern States of OZ!! So naturally not a lot of young birds were bred.
However what we did breed was extremely good quality with the young cocks and hens showing nice size and type, which is an exciting development for our future stock birds, giving us confidence that the program we have set in place for the coming years should show the continuous improvement of our birds every season and insure an outstanding 2015 breeding season.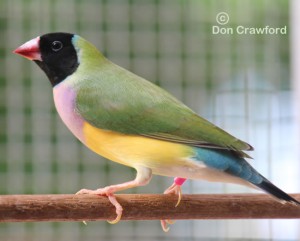 Aviary Visits
We did have the pleasure of visiting some very nice aviary complexes whilst on our travels. In Victoria, the quality of the mutations was such a pleasure to see with many outstanding improvements to the Blue Back Gouldians. I must give credit to these breeders for doing such a great job on a bird that in the past has had a very dubious reputation as a problem bird, needing antibiotics just to survive, these breeders have created the first page in the come back of the Blue Gouldian. Well done!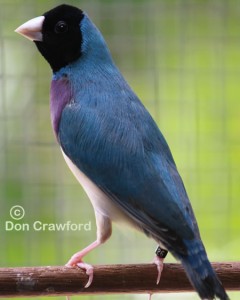 Desirable Normals
With the high standard of Mutation being bred, it was very noticeable the lack of Normal Gouldians that were on display.
In fact what we did find was a complete lack of understanding of what the normal has to offer to the breeder. Comments were made like: 'we cannot afford the cage space for twenty-dollar birds', 'hard to sell', 'expensive to keep with no return compared to our mutations'. This reasoning is hard to argue with, but is far from the progressive thinking of a lot of other breeders that have done the hard yards and spent years in developing Normals of outstanding quality, size, and colour. These top quality Normals will in a very short time command $100 pr, making them an important valuable asset to your collection. Although the quality of the mutations that we have seen was good, these high quality Normals would take the mutations to a much higher level in just a very short time.
This is exactly what we did with our mutations putting our best Normals to the best of our mutations. Not only are they super-looking splits that we produced last year but are also as tough as any normal bird that we possess. This also has the advantage of creating stronger genetic blood lines for you to pass on to other breeders. This method can be repeated whenever your mutations are slipping behind your Normals. As long as you keep the Normals to a high standard, you will be very happy with the achievements that you have created with all your Gouldians.
Highest Quality
Long term thinking of Quality! Quality! Quality! will set a new and exciting era for Gouldian breeding in this country and make the development of any new mutation that may turn up a very simple task. Once they are crossed to these quality Normals. Modern thinking demands that we as the keepers of the most beautiful finch in the world push for the highest standard that we can achieve. The attitude of 'sit down and wait' just won't achieve anything.
Adieu
Don